TITAN Spezialfahrzeugbau GmbH is located in Sulzbach in the southern area of Germany, the heart of machine building and vehicle industry and .
TITAN is one of the leading manufacturers for Heavy-Duty and Special purpose vehicles.
We develop and assemble vehicles for heavy duty transport in the civilian and military sector, special operations on oil fields and mines as well as customized vehicles according to customers? requirements.
As an official partner of Mercedes-Benz Custom Tailored Trucks we are producing the heavy-duty truck Actros SLT on behalf of Mercedes-Benz
In addition, we are specialized in ARFF chassis that are used to built up Airport Crash Tender Trucks.
To guarantee a smooth operation of our vehicles, we have besides our After-Sales Service a large spare parts stock to ensure a quick part supply.
Due to our diverse product range and our efficiency in the range of special applications, we have a leading position in the national and international market.
ISO 9001 certification / quality standards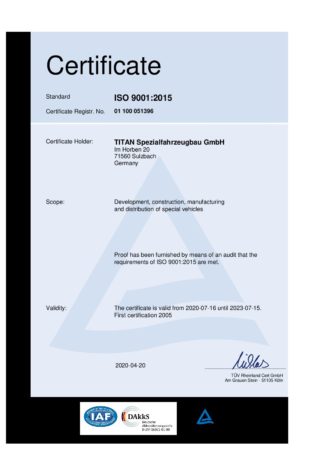 In addition to our in-house quality management system, we have been
certified according to ISO 9001.
As an official conversion partner of Mercedes-Benz Custom-Tailored Trucks, we comply with the Mercedes-Benz quality guidelines for body manufacturers.